Safety is our priority. As we prepare for summer 2021 we'll continue our dialogue about our safety planning. This is a work in progress and will ultimately be based on best practices from the camping and medical community along with implementation of Federal and Pennsylvania regulatory requirements.
February 25, 2021
1. Introduction
The information surrounding COVID-19 is constantly changing and evolving. Although experts agree that there can be no guarantees that COVID-19 will not enter Camp, we have instituted multiple levels of protection to help mitigate risk including: face coverings, hand hygiene, physical distancing and frequent surface sanitization, the use of testing, strict cohorting, and the creation of a stable environment (or camp bubble). These policies adhere to CDC  guidelines, the American Camp Association (ACA) field guide, and the Pennsylvania Department of Health and are based on the recommendations of the Capital Camps Medical Advisory Committee as well as learnings from our own experience in running Cabins@Capital. 
With parents, campers, and staff all working together to keep our camp as safe as possible, we are confident in our ability to have a great summer. 
---
2. COVID-19 Response Team
Capital Camps' COVID-19 Response Team is comprised of Havi Goldscher (Interim CEO), Ron Siegel (COO), Lisa Handelman (Camp Director), Dr. Shira Weiss (Medical Director), Sarah Gamerman (Head Nurse), Natasha Oksenhendler (Head Nurse), and members of our Medical Committee led by Dr. Brent Berger.  Questions regarding contents of this Playbook or anything related to COVID-19 preparedness at Camp should be directed to Lisa Handelman at LisaH@capitalcamps.org. 
---
3. Home and Camp Partnership
We rely on a deep partnership with our camp families each and every summer, but this summer that collaboration will be more important than ever as we strive to build the safest possible community for our campers and staff.  This year, our partnership will require that our families follow all pre-camp requirements, including, but not limited to, quarantining, COVID testing, daily symptom and temperature monitoring, and reporting of any and all physical and mental health concerns.  As the Association of Camp Nursing reminds us, A Healthy Camp Begins at Home.        
---
4. Core Assumptions
In 2021, Capital Camps & Retreat Center will resume our traditional summer camp program filled with connections, values, growth, and fun. To keep our community safe and to mitigate against the spread of COVID-19, we will be making adjustments to our program that strike an appropriate balance between precautions, safety, and the enjoyment of being at Camp for our campers and staff.  The core assumptions listed below are the foundation upon which our COVID-19 Playbook was created. As the situation on the ground regarding the pandemic and related guidance continue to evolve, we reserve the right to adjust these assumptions and the components of our Playbook accordingly.
We can operate safely.  Through our experiences with Cabins@Capital last summer, we learned a lot about operating during this pandemic. This experience, along with what we have learned from the camps that operated in 2020, the CDC, and the ACA, has given us confidence in our ability to apply a comprehensive strategy of multilayered nonpharmaceutical interventions in order to safely operate Camp this summer.
COVID vaccines will not be widely available to our campers.  Based on consultation with medical experts, we do not expect a vaccine to be widely available (if at all) for children under the age of 16. Nor do we anticipate the distribution of vaccines to be evenly distributed geographically among all the places our staff and campers live during the year.   
COVID will remain a public health concern well into the summer.  While as a nation we are still in a very serious situation, the rates of infection across the country appear to be decreasing. We are continuing to learn how variant strains of the coronavirus will affect the pandemic.  National health authorities continue to estimate some return to pre-COVID normalcy by mid- to late-summer.
Testing will be adequately available to allow for early detection of the virus in our campers and staff.  A major difference between June 2020 and June 2021 will be the availability of PPE and testing supplies. Testing before and during camp, and requiring the use of appropriate PPE will be essential for keeping camp as safe as possible.   We are in contact with a number of companies which offer testing and will finalize our plans as we get closer to the summer.
---
5. Pre-Camp Protocols
Each year, parents complete standard medical forms.  These forms are important to prepare for our normal medical needs and they need to be submitted to camp no later than May 1.   Questions about COVID-19 will be included on these forms. In order to mitigate the risk of COVID-19 being brought into camp, we will ask all campers and staff to take additional safety measures prior to their arrival.  We may change and update these procedures as we continue to review the latest data and guidance from public health officials and our medical advisory committee. 
Pre-Arrival Quarantine
It will be necessary to carefully balance the need to quarantine and limit interactions with others prior to camp. Based on what we know today, we will be asking campers to quarantine for approximately 10 days prior to coming to camp.  The period of quarantine may be reduced as reliable tests with quick turn-around times become available.  For campers starting camp on June 28, the quarantine period will begin no later than June 18.  For campers starting camp on July 27, the quarantine period will begin no later than July 17. During the quarantine period, we are asking that all household members take appropriate preventative measures (wearing a mask, staying 6 feet away from other people, and washing hands with soap and water frequently). During this quarantine period, please refrain from attending any large gatherings; this includes but is not limited to, school graduation parties, weddings, and community events.  In addition, all campers will be asked to self-monitor for symptoms related to COVID-19.  All campers should avoid non-essential travel for the entire quarantine period. 
COVID Testing
Please note that our testing policy is based on what we know today, and is subject to change.  We are looking at a three tiered testing procedure, two rounds of tests would take place prior to entry into camp and one test would take place 5 to 7 days after the start of each session. 
Vaccines
We continue to carefully track the vaccine distribution in the United States. We are planning for summer assuming that many members of our camp community, especially children, will not yet be vaccinated against COVID-19.  It is our hope that as many of our staff as possible will be able to receive the COVID-19 vaccine.  The American Camp Association has been advocating state by state that out of school teachers and camp staff should be considered as essential workers. The CDC confirmed that out-of-school-time workers have been officially included in the Essential Workers category. While this is a national recommendation, each State will ultimately have the authority to determine when to vaccinate its essential workers. States will individually determine priority order and implementation of vaccines.   When available, we hope all our staff will take advantage of this opportunity. As spring progresses, we will continue to monitor developments with vaccines and the timeline for availability; we will remain flexible and adjust our protocols as needed.   
6. Transportation to/from Camp
This year, in order to maintain the highest possible level of safety, group transportation to camp is not feasible, and personal arrangements will need to be made for camper drop-off in Waynesboro. 
At this point, we do not anticipate the ability to bus your camper/s home, but if conditions change, we will keep you informed. 
---
7. Arrival
The specific details and logistics around drop-off and pick-up, i.e., assigned times, meeting locations, etc., will be shared with our families closer to the start of Camp.  You can expect a careful and responsible check-in process that supports the stable environment inside of Camp we are trying to create and maintain.
Once your camper(s) have been cleared to enter, the driver of the car will be given a pass to enter camp.  Only campers staying at Camp will be permitted to leave the car.  Our staff will be available to unload your camper's bags.  
---
8. Defining Our Bubble
Based on what is currently known about COVID-19, best practices to operating safely during this pandemic include creating as stable of an environment as possible, which means limiting who comes in and out of Camp to the best of our ability. To accomplish that, Capital Camps will operate as a closed campus or bubble.
Similar to past summers, all staff who work directly with our campers, including those working in the kitchen to prepare food, will live on camp property.  Our doctors and nurses typically work one or more weeks at camp and this will continue to be the process this summer with our medical staff entering our bubble throughout the sessions.   Our Retreat Center will remain closed during the summer camp session to further protect the established bubble.
We are also mindful that for any number of reasons, campers and/or staff members may need to leave our stable environment, i.e., for receiving additional medical care.  All circumstances surrounding what takes place while they are gone from Camp will be assessed and an objective determination will be made on a case-by-case basis by our Medical team, Camp Director, Chief Operations Officer and/or Interim CEO.
We reserve the right to reassess these protocols based on new information about vacancies, herd immunity and infection rates. We are committed to keeping our environment as safe as possible.  
---
9. Interventions at Camp – Use of NPIs
Camps that operated successfully last summer note that their success was due in large part to what is called non-pharmaceutical interventions, or NPIs, including wearing masks, physical distancing, and primarily being outside. Other NPIs that we will be implementing include, but are not limited to, frequent handwashing, daily health screenings, cohorts, increased disinfecting, cleaning and ventilation and activity zones.  We have a lovely 270-acre facility and have added additional designated outdoor space for each of our individual villages.  
Masks
Capital Camps will fully comply with any mask wearing requirement or mandate from Federal, State, or local governments.   The CDC recommends wearing face coverings that cover the mouth and nose and fit under the chin. A face mask may not have an exhalation valve and bandanas and neck gators are not permitted to be worn as a mask.   Families will be asked to send at least two masks per day (double layer cloth or disposable surgical masks).  A link to acceptable masks will be provided with time to order prior to camp. 
Daily Health Screenings
Cabin counselors, who will have extensive training from the medical staff prior to camp, will be conducting daily health screenings of their campers for COVID-19 symptoms. 
Cohorts
Following American Camp Association's best practice recommendations, we are prepared to create cohorts of the smallest practicable groups of campers who live, eat, play and do most group activities together.  The bunk is everyone's first and primary cohort.  Having campers initially gather in small cohorts is also the best way to meet their social/emotional needs.   For the first 5 to 7 days of each camp session, we anticipate that campers will experience all the fun of camp while remaining as part of this bunk level cohort. It is our intention to explore the expansion of our initial cohorts into micro-communities only after we have established a stable environment (a camp bubble) through negative test results for COVID-19 from tests administered at camp.  We anticipate expanding the cohorts from bunk level to micro-communities (multiple bunks) and hopefully being able to form full village cohorts. 
Zones
In a typical summer, it is not uncommon to have campers move from activities in lower camp such as the lake, farm, teva (nature) or baseball to activities in the center of main camp such as arts and crafts, Israeli dancing or drama.  At the same time as campers may be moving from the pool, soccer field or climbing wall to hockey, tennis, basketball, volleyball or archery.  This summer we will be redesigning our schedule so campers in a particular village will have several activities in one zone before moving onto another area of camp.  This will create soft village bubbles within our larger camp bubble.  When possible (and weather permitting), camp activities will be held outdoors in these zones.  
---
10. Interventions at Camp – cleaning, sanitization, & ventilation
Cleaning and Sanitization Procedures and Enhanced Hygiene
CCRC has greatly expanded our cleaning, handwashing, and sanitization procedures over the past year and those practices will remain in place for 2021.  Sanitation protocols will be in accordance with CDC guidelines.  Sanitization enhancements will include a daily electrostatic spray to be used in high touch areas, additional hand sanitizer stations, new handwashing stations across camp, and additional cleaning and sanitizing of all public bathrooms, shared spaces, and highly touched services.  Activity areas and equipment will be cleaned on-site by specialist counselors after each use and housekeeping staff for harder to clean areas.  This includes but is not limited to sports equipment, life jackets, art supplies, and much more.
Increased Ventilation
All HVAC systems in all buildings will be compliant with air-flow rates and air quality/disinfection requirements recommended by the CDC. Enhancements include the installation of exhaust fans to increase fresh air turnover rate, upgrades to HVAC filters and reconfiguring ventilation to maximize purification of air. 
Additional measures include the use of individual portable air-conditioning units to isolate air flow to individual sleeping facilities.
---
11. Meal Time
We have traditionally eaten together to create a sense of community and this will still take place, family style, within cohorts. All campers will be eating in cohort groups all summer.  Campers in Benjamin, Reich and Kaufmann will be eating in bunk level groups.  Macks, LITs and CITs will be eating by village.  We will continue to offer healthy, nutritious kid-friendly meals with choices, and specialty meals to accommodate those with specific allergies and other dietary needs. We have set up additional handwashing stations and are prepared to eat in a variety of locations. We will be adjusting our daily schedule to provide staggered mealtimes and multiple locations. All meals will be served in safe, efficient and clean environments. Afternoon Chatif (snack) and evening snack (for our older campers) will still be part of our food program. Campers will continue to enjoy their snack out and about in Camp.
---
12. Mirpa'ah (Our Health Center)
We are fortunate every summer to have a health center staffed by high quality physicians and nurses as our Mirpa'ah (health center) plays an important role in operating safely each summer.  In addition, our Yoetzot (mental health professionals) are an integral part of our camp care team working throughout camp to ensure the mental health of our campers and staff.  Recognizing the trauma of this past year, we have hired additional Yoetzot this summer.  In 2021, our medical staff will continue to provide medical care for our entire camp community, while helping us stay safe from COVID-19.  Many of our health care providers have been working throughout this year in communal settings and they are well-versed in operating within the parameters of COVID-19. Our health care staff will follow guidelines based on recommendations from the CDC,  state and local health authorities, and Capital Camps' medical advisory committee.
---
13. Programming
Daily Schedules
We are planning to have our full line-up of activities at camp – including favorites such as sports, arts, aquatics, outdoor adventure, teva (nature), the farm and more. We are carefully examining how our activities may need to be modified due to COVID-19 and are following guidance from the ACA, CDC and Capital Camps Medical Advisory Committee in this planning. Modifications include additional time between groups for cleaning, relocation of activities to outdoor spaces, and smaller group sizes.  At the beginning of each session, campers will follow a bunk based-activity schedule, and participate in a wide range of rotating activities.  We will not be offering our chug (elective block) during the first weeks of each session and hope to offer a modified chug program that will allow for increased camper choice at the village level. Multiple groups in a cohort may be assigned to zone areas together, where they will remain socially distanced to the extent possible.  If there are no cases of COVID-19 after in-camp testing, we hope to increase the size of the cohorts (see cohorts above).
Shabbat
Shabbat links us as a Jewish community.  Gathering together, dressed in white, as we welcome in Shabbat is a highlight for us every summer.  This summer won't be any different.  We're exploring a number of options that will allow us to deliver on our Shabbat traditions, in a safe and responsible way.  This could include multiple Shabbat services, structuring Shabboptions (our Saturday morning choice activities) and our Shabbat afternoon free time by bunks and villages instead of camp-wide. Singing during Shabbat services, for the prayers before and after the meal, and for a modified song session, will be allowed within the confines of, and when in the company of those in pre-established cohorts. It is currently considered best practice that all participants should be masked when singing.  And of course, we will find a way to have our spirited Rikkud (Israeli dancing) on Friday evenings.  
Off-Camp Trips
At this point in time, we do not anticipate leaving camp property for any trips other than the LITs who will travel directly to Israel the day before camp starts. Overnight camping trips will still take place and we will be utilizing a number of locations within our wonderful 270 acre property.  We are planning for some new and exciting experiences for each village.
---
14. Ongoing Communication
Camp Photos and Social Media
This summer you may notice a decline in the number of photos that we regularly share on various platforms like Smugmug, Facebook, and Instagram.  This will afford us as much time as possible to best ensure adherence to the high standards and best practices in health and safety we've established for our Camp community.  After the summer, all photos that were taken during Camp will be posted for our families to see.  We will continue to share smaller posts on social media, including our daily blog, with the focus on telling the story of our summer.  It's important to us that our families still have that special lens and opportunity to see what's happening at Camp and the meaningful experiences in which our campers are engaged.
Mail, Packages, and Deliveries at Camp
Just like in previous summers, families will also be able to send one-way email messages, mail and small flat packages are not only permitted to be delivered to Camp, they're encouraged!  Our standard package policy regarding contents and size remain in place.   We will request that UPS, FedEx and USPS leave any mail or packages at our gate.  The Camp Office will coordinate with our security team to allow these deliveries to be completely contact free.
Our Yoetzot, camper care specialists, will still be accessible to you to answer questions and affirm that all is well at Camp.  Please call the Camp Office to leave a message if you have any questions or concerns.
---
15. Staff Expectations
In order to welcome our campers into the safest environment possible, the medical committee recommends COVID-19 testing for staff and lengthening staff training. Based on this recommendation, Staff Training will run from Monday, June 14 to Sunday, June 27.
Based on current medical experts' recommendations, all staff, including those who are vaccinated, will also need to have a negative PCR test. Training will include additional information about our COVID-19 safety protocols. We're working hard to make sure that staff have their own space and that there are enhanced staff programs and amenities available so that they will have the opportunity to rest, relax, and recharge, since they will not be able to leave camp for days off.  Staff will also be staying on campus for our intersession, enjoying some time off and getting ready for our second session campers. If things change and we are able to relax these protocols, we will certainly do so.
Prior to entering camp, staff will need to provide evidence of a negative PCR COVID test or evidence that it has been at least two weeks since their second COVID-19 vaccine.  As noted above, we are encouraging all eligible staff to obtain the vaccination before Camp. 
---
16. Thank you
Lastly, we wanted to say thank you in advance for partnering with us to deliver the best possible experience for our campers and staff. It is important to note that this document reflects the current conditions if camp were to start today. We will continue to update these policies and provide greater detail as we get closer to the summer.   The past year has presented our community with challenges that we have been able to overcome by staying together and protecting each other.
---
February 2021
It is our hope that as many of our staff as possible will be able to receive the COVID-19 vaccine.  The American Camp Association has been advocating state by state that out of school and camp staff should be considered as essential workers. The CDC confirmed that out-of-school-time workers have been officially included in the Essential Workers category. While this is a national recommendation, each State will ultimately have the authority to determine when to vaccinate its essential workers. States will individually determine priority order and implementation of vaccines.   When available, we hope all our staff will take advantage of this opportunity.
January 2021
---
In November (see below), we shared that we are prepared to implement a three tiered testing process and the use of nonpharmaceutical interventions (NPIs) including: pre-screening, pre-quarantining, daily screening, cohorts, masks/physical distancing/outdoors, handwashing, increased disinfecting/cleaning, increased ventilation and activities by cohorts and in zones. This month we would like to share some more details about one of these NPIs: pre-sheltering-in-place.
The idea of collective responsibility is embedded in how we need to prepare for summer 2021. In order to mitigate the risk of COVID-19 being brought into camp, we will ask all campers and staff to take additional safety measures prior to their arrival. These additional safety measures may include obtaining a COVID-19 test, reporting the results to camp and quarantining prior to arrival at camp. We will be following CDC, state and local guidelines and the advice of our medical committee.
December 2020
---
Following American Camp Association's best practice recommendations, we are prepared to create cohorts of the smallest practicable group of campers who live, eat, play and do most group activities together.
Consistent larger gatherings will be created building from bunk to grade/gender, to grade, village and camp.
We will maximize use of our 270 acres campus and the great outdoors.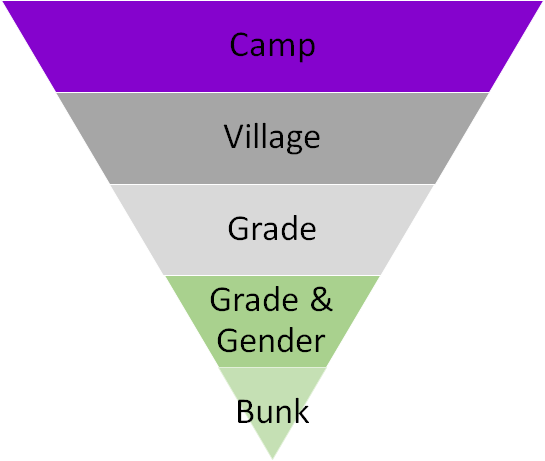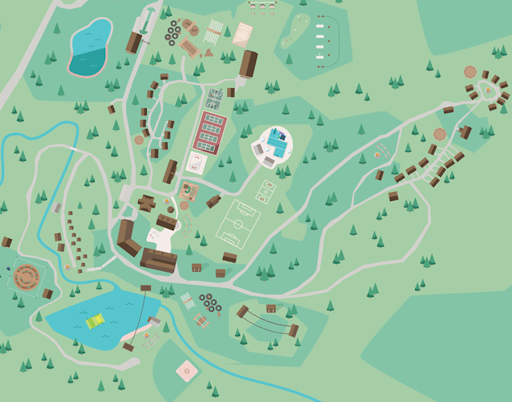 November 2020
---
Town Hall Meetings on November 17 & 18
We will be implementing the use of Nonpharmaceutical Interventions (NPIs) including:

Pre-Screening
Pre-arrival quarantine
Daily Health Screening
Cohorts
Masks, Physical Distancing, Outdoors
Handwashing
Disinfecting & Cleaning
Ventilation of indoor spaces
Activities by cohorts and in zones

If needed we will implement a three tiered testing process; before camp, upon arrival at camp and a certain number of days into camp
---
October 2020
---
Opened up registration to new families on October 5; camp team is available for individualized family tours and/or for small group or individualized virtual parlor meetings
Moved Rookie and Mini Camp sessions to the beginning of each session so campers will not enter what may need to be a "closed" camp community for COVID safety
Adding medical and emotional support staff to ensure the safety of our 2021
campers and staff
Designing programs and schedules for small cohorts
Evaluating each village and creating designated additional outdoor spaces to gather, to dine and to play
---
September 2020
---
Lead by Dr. Brent Berger and Dr. Shira Weiss, our Camp's medical committee has been expanded and is preparing for a fully engaged 10-month planning period
Planning for potential occupancy restrictions imposed as an ongoing safety measure by the State of Pennsylvania, we opened up registration to our current camp families
Applying the Cabins@Capital successes, along with lessons from camps nation-wide, Jewish Community Centers, schools and other communal organizations