Family Camp
Join us for our upcoming Family Camps! 
Click HERE to learn more and register.  
September Family Camp Weekend: Friday, September 29-Sunday, October 1
December Family Camp Weekend: Friday, December 8-Sunday, December 10
We are offering two family camp weekend getaways for existing and new families to enjoy the outdoors and experience our incredible weekend programming. Family Camp will include camp-style shabbat with rikkud/dancing, shira/singing, and community bonding, as well as arts & crafts, sports, gaga, boating, ziplining and so much more! This is the perfect weekend to bring together your friends and spend time in the mountains! This is a great opportunity for all families in our community, including those that may be interested in Capital Camps in the future.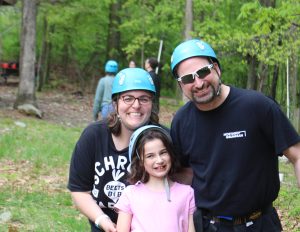 Click here to register for Family Camp!
The cost of a Family Camp Weekend is all-inclusive of food, lodging, and activities for the entire weekend. Pricing starts at $375 per person, with special discounts if your group has 4 or more people! The price goes down to $350 per person for a group of 4, and each additional person in your group beyond 4 is $250 per person!
What is Family Camp?
It is time for a change of scenery and to step away from the everyday; restore, rejuvenate and reenergize! We are offering a family weekend getaway for families to enjoy the outdoors and experience our incredible campus.
We will celebrate Capital Camps' 36th anniversary with camp traditions, trivia, scavenger hunts, and more. This is the perfect weekend for alumni families and groups who want to relive the magic of camp.
Only 75 minutes from the Greater Washington area and Baltimore you will find yourself surrounded by the stunning Appalachian Trail and Blue Ridge Mountains of Pennsylvania. Enjoy our serene lake, choose among a fleet of activities, and soak up all that nature has to offer.
Here's a sample schedule of what our family camp weekends look like, stay tuned for a specific schedule:
Friday
4:00 pm- Arrival 
6:30 pm- Welcome & Shabbat Services 
7:00 pm- Dinner 
8:00 pm- Israeli Dancing & Song Session 
9:00 pm- Adults Only Gathering 
Saturday
9:00 am- Breakfast 
10:00 am- Shabbat Services 
11:30- Lake Time! (Boating, Fishing, 9-Square In the Air, Kickball, & Spikeball)
1:00 pm- Lunch 
3:30 pm- Free Time ( Archery, Soccer, Basketball, Tennis, Ziplines, & Ropes Course)
6:30 pm- Dinner 
7:30 pm- Evening Program
8:30 pm- Havdalah 
9:00 pm- Campfires & S'mores 
10:00 pm- Nighttime Lake Zipline! 
Sunday
9:00 am- Breakfast 
10:00 am- Free Time (Art, Tennis, Basketball, Climbing Wall, Boating & Fishing) 
12:00 pm- See you next Family Camp!
The Family Camp Experience and Activities:

Our 270-acre campus, normally the site of camp and retreats, is perfectly designed to host these special outdoor experiences. Our staff has over 30 years' experience pairing fun with safety. Come play, explore or simply relax with your loved ones by your side. We have the expertise to offer an entire fleet of activities for you to enjoy.
Activities and Amenities:
Enjoy an outdoor Shabbat and Havdalah activities

Enjoy evening family activities

Go boating or fishing at our pristine lake

Supervised archery range

Roast Marshmallows and make s'mores at family campfire

Spend time reading next to the lake

Create art projects as well as Judaic Keepsakes

Hike through our 270-acre campus

Play sports including baseball, soccer or tennis

Relax with self-guided yoga

Utilize our Judaic meditation guide

Enjoy camp games of 9 square in the air, gaga and tetherball

Explore our various nature hikes

Bring your bike for a challenging hilly ride

Wifi available
Our staff will provide supervision of activity areas.
During your stay, you will enjoy our comfortable cabin or lodge accommodations and kosher meals and snacks, certified by Star-K.
Accommodations and Meals: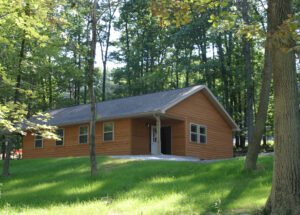 Our facility serves as a home for close to 1000 campers and staff and over 100 community and national retreats each year. We are excited to host your family! Each family will have private space. Lodging will be in either one of our beautiful cabins or Lodge rooms.
Cabins includes a bathroom with showers, electricity, ceiling fans, and bunkbeds. Our cabins can accommodate your entire family, up to 8 individuals. For those of you who are familiar with Capital Camps, we'll be using cabins located in our Benjamin and Reich Villages.
Upper Lodge Bet Rooms have a bathroom with shower, electricity, ceiling fans and two queen beds, which can accommodate a family of up to 4
Lower Lodge Bet Rooms include a bathroom with showers, electricity, ceiling fans, and bunkbeds, which can accommodate a family of up to 6. 
All accommodations will have bed linens and bath towels provided and all facilities will be fully cleaned prior to your arrival. Additional cleaning and disinfection supplies will be on-hand for use as desired.
FAQs
What is the refund policy? If it is necessary for a family ​to cancel ​their attendance to this event for any reason, a 50% refund of the price paid will be issued.  In order to receive a refund, notice of intent to cancel must be submitted ​in writing to info@capitalcamps.org, by the Monday prior to a Friday arrival, regardless of holidays or other occurrences.  If CCRC has an insignificant number of reservations or deems it otherwise necessary, we reserve the right to cancel ​and will provide a full-refund of monies collected.
Can Family Camp manage my dietary needs? As a retreat center for over 9000 participants each year and camp for over 1,000 campers and counselors, we have seen it all! Our facility is Kosher and nut-prohibited, but we are ready to manage most dietary needs – vegetarian, gluten free, dairy free and more. On your registration form, please note your specific needs and we will ensure our kitchen staff prepares the right meals for you and your family!
What should I bring? Prior to your arrival, you will receive an email with detailed logistics as well as a packing list to prepare for your stay at Family Camp. Please check the weather in Waynesboro before packing to ensure you are appropriately dressed; the weather can be cooler than at home. Guests are free to bring any specialized active gear, bikes, scooters, roller blades, yoga mats, tents, yard and board games. If you are bringing young ones, please bring a Pack 'n Play, toys, etc. We will provide sports balls, life jackets, booster seats and fun!
Can you accommodate individuals with disabilities? Yes, proudly. Our facility is ADA complainant, and we have lots of experience being welcoming and inclusive. Please contact Seaton to discuss your individual needs.
Can I request that our neighbor or friends have a cabin close to ours? Absolutely, we will make every effort to accommodate. 
Can we bring snacks and food? We love snacks, and provide lots of snacks throughout the day. As a Kosher facility, and a nut-prohibited campus, we ask that no outside food or drink be brought into Family Camp. There will be plenty of food and drink available throughout your stay.
Will Wi-Fi be available? YES! There are a number of locations throughout our campus with Wi-Fi, however the cabins do not have connectivity. You can feel free to bring your own wi-fi capability.
Is there a Medical Center open during Family Camp? While we have an excellent medical/health team onsite during a normal camp season, we will not have staff for Family Camp, however basic first aid supplies will be available upon request. We encourage you to bring Band-Aids, sunscreen, bug spray, over the counter medicine and medications.
What if it rains? We have numerous covered facilities and we are prepared for rain activities for the entire family, but we believe you will actually enjoy the rain. We suggest that you bring sunglasses as well as rain coats and board games and cards for entertainment.
Can we bring pets to Family Camp? We love pets but unfortunately, they need to stay home. For information about service animals please contact info@capitalcamps.org.