Thanks to people like you, who treasure camp's role in Jewish families' lives, we were able to withstand the financial impact of 2020. Philanthropic support from the people who deeply value the unique role of camp remains an essential driver of our continued success. 
View all our 2020 supporters!
Amazingly for the second year in a row, the Harold Grinspoon Foundation (HGF) is offering the All Together Now 2021 matching grant for Jewish Overnight Camps. Right now, HGF will give $1 for every $2 that you invest in Capital Camps & Retreat Center (2:1 match). Your donation will immediately be increased by 50%.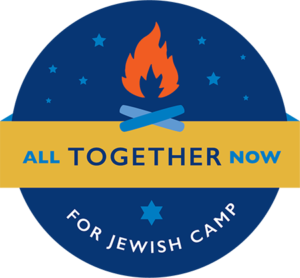 All Together Now To Make Summer 2021 Unforgettable.
Support provided by Master Card, Visa or Discover credit cards can be made using the forms below or email Samantha Notowich.
Click donate button below to make a gift through Paypal or with an American Express card.
Jewish Camp & Conference Services, Inc., d/b/a Capital Camps Federal Tax ID is 52-1515202.