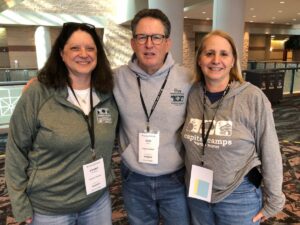 From Lisa, our Camp Director…
The term "best practice" has been used to describe "what works", what methods and procedures result in the desired outcome. At camp we are in the business of building Jewish Identity. Camp is all about children having fun. If fun is not present, none of the serious Jewish identity-building, personal growth and community connection activities can take place and be absorbed. Our year-round team is committed to ongoing professional development and learning. In addition, engaging in numerous virtual learning opportunities, members of our camp team recently attended the American Camp Association's Tri-State Conference. Summer 2022 will be a new and exciting time for our Capital Camps community. We plan to build on meaningful traditions from past summers while incorporating current best practices.
There were several sessions at the Tri-State conference about the need to reinforce the basics; learning to connect with peers and small groups as we rebuild community. From the conference, we brought home a collection of fun new game ideas. These games will be used in the dining hall to spark conversations, to help campers in different bunks connect with each other, and will be used to encourage meaningful conversation during cabin time activities. Our most recent camp committee meeting was focused on ways to strengthen community building. We plan to intentionally work with our summer leadership team to incorporate the ideas brought forward and to make building cabin, grade level and the full camp community a reenergized priority this summer.
It was noted throughout the conference that language and boundaries have changed. Children and young adults are describing their own mental health challenges in way that feel more dire and stressful. Conversations about gender and identify are more prevalent. There is a need for emotional, physical, and behavioral boundaries to be more clearly communicated and reinforced. These sessions reinforced how essential it was that we added a Community Care Coordinator, Adina Golob, to our year-round team. We have updated our Health History form and encourage parents to pay attention to the new mental health related questions on this form. As we design our staff training, we will be adding new sessions devoted to meeting the MESSH (Mental, Emotional, Social, Spiritual Health) needs of both campers and staff.
At Tri-State, there were several sessions devoted to staff recruitment and supporting the needs of staff. We have made staff professional development a priority this summer. All of our summer supervisors will be checking in with their staff weekly using a more formalized system that redefines the role of supervisor as a coach or mentor and incorporates checking in about self-care and areas of professional growth. The camp team will also be eliciting feedback from staff in a more formal way so we can be more timely in responding to staff's needs and provide additional support as needed. Camp is brought to life by our summer staff; they are exemplary role models who care and nurture our campers. Supporting our staff will ensure that they will be able to provide an amazing, fun summer for their campers.
Lifelong learning is a pillar of our Jewish values. When Moses assembled the Jewish people as they prepared to leave Egypt, he talked about the duty of parents to educate their children. We are thankful that this summer we can partner with parents as we share in the awesome responsibility to educate children and young adults. Learning at camp is done as we inspire our campers and staff to grow as individuals through challenges and shared experiences. We are committed to lifelong learning, incorporating best practices, and providing a safe, fun, and meaningful summer. We can't wait for summer 2022!